Complete Roofing Services
Protecting your roof and ensuring it's in its best condition means putting roof repair and replacement services in the hands of a contractor you can trust. Stubbs Roofing, Inc. is ready to provide you with a full gamut of roofing services, approached and completed to an unparalleled level of excellence.
Our capabilities are encompassing, from annual inspections to complete roof replacement in South Jordan, West Jordan, Draper, Salt Lake City, and Sandy, UT and beyond. Call on us for any critical services you might need, including: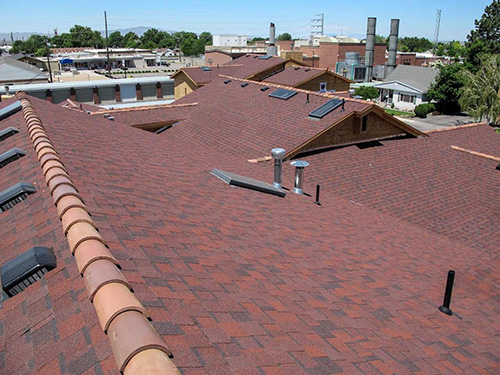 Roof repairs: If you notice missing shingles, ice damming, sunken areas, damage to your soffits or anything that might indicate an underlying problem with your roof, waste no time in calling one of our professionals today. We can assess the scope of any damage and provide you with complete roof repairs to fully remediate the issues before they become catastrophic.
Roof leaks: If you notice staining on your ceiling, water creeping into your attic or a musty smell in confined areas of your home, the problem may exist above you. Our professionals are able to find the source of leaks and completely resolve them before you're left with massive damage.
Roof replacement: From asphalt shingles to metal roofing in South Jordan, UT and beyond, we're your foremost choice for brand new roofing and are ready to help you pick a roofing material that will last you for decades to come. We specialize in all forms of roof replacements, including full tear-off jobs.
Roofing service: Need your roof inspected, assessed for efficiency or just maintained to ensure its proper function for another few years? Call us for any miscellaneous roofing services you might require and know you're getting service that's a cut above the rest.
Roof maintenance: From gutters to soffits, shingles to the water barrier, ventilation and beyond, we can assess and address all areas of roof maintenance and provide you with services that give you peace of mind about the form and function of your roof for the next year to come.
Don't wonder if your roof is doing its best job in protecting your home or business: know it is. The professionals at Stubbs Roofing, Inc. can provide you with much-needed peace of mind when it comes to any and all shingle and metal roof repair and replacement services. Contact us today at 801-971-0281 for more information about our capabilities.