Deck Waterproofing Services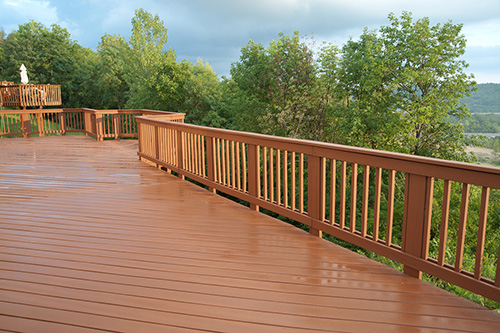 More than just your premier commercial roofing contractor in South Jordan, West Jordan, Draper, Salt Lake City, and Sandy, UT, Stubbs Roofing, Inc. is also pleased to offer critical deck waterproofing services for residential and commercial customers alike. As a certified Duradex water sealer, we have the ability to address decks of all sizes, to provide a waterproofing application that's strong enough to stand up to whatever the elements throw at it!
Residential waterproofing
If you're a homeowner with a deck, that deck is an investment in your quality of life and an asset to your home. Keeping it strong and beautiful against the constant wear and tear of the elements isn't easy! It's made all the simpler if a proper waterproofing application is applied, however!
We can sweep through your deck to add a Duradex water sealer application, effectively preventing moisture instruction and protecting the core foundation of your deck against rain and snow, all year round. It'll look better, feel nicer and retain its value longer.
Commercial waterproofing
If you're trusting Stubbs Roofing, Inc. as your commercial roofers in South Jordan, UT, ask us how we can also provide service for your commercial deck! Many eateries and B2C business establishments make use of a deck to increase the appeal of their space, but that deck comes with maintenance demands that might exceed your abilities. We take pride in supplementing your regular upkeep and maintenance efforts with a Duradex waterproofing application. As a result, your deck will retain its appeal and weather the elements better, for longer!
To learn more about Duradex waterproofing or to inquire about our capabilities as they apply to deck waterproofing in South Jordan UT, contact us today at 801-971-0281. We're happy to provide estimates based on the size and scope of the project. We're also available for roof repair and replacement, metal and shingle roofs, and more.