Experienced Commercial Roofers in Salt Lake City, UT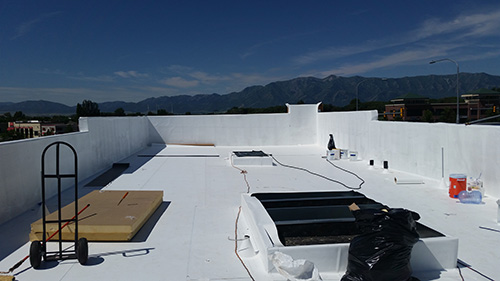 Protecting your business means protecting your roof and ensuring it's always in top-tier condition. The experts at Stubbs Roofing, Inc. are pleased to offer business owners a depth of experience and a widespread reputation for excellence when they're looking for a commercial roofing contractor in Salt Lake City, UT.
We understand that commercial roofing is a large departure from traditional residential roofing, which is why we take a more complete and tailored approach to dealing with commercial roof repairs and maintenance. Because of the different dynamics required to keep commercial roofing in its best condition, our emphasis on maintenance and coordinated repairs is key.
Like most commercial roofers in Salt Lake City, UT, we can help you to inspect, assess and maintain your roof, while also repairing minor issues that may develop over time. Unlike other commercial roofing professionals, however, we can go above and beyond just these basic demands. From drainage design to flat roof installations, sloping assessments to metal roofing jobs, our range of expertise stretches far beyond other contractors to leave you with complete peace of mind in our abilities.
The next time you have commercial roofing needs, don't hesitate to call on the professionals at Stubbs Roofing, Inc. We take pride in our capabilities and we enjoy cultivating new relationships with business owners throughout the communities they serve. We aim to be your trusted resource for roofing projects big and small, and are here to meet your demands while also working within your budget.
For more information about our abilities as commercial roofing experts or to inquire about quotes and pricing for the services we're able to provide, please contact us today by calling 801-971-0281. We look forward to speaking with you and hope that our interaction turns into a long, prosperous business relationship!